Nobody starts a business because they want to run a business.
As a founder, I know this personally. You start a company to solve a problem you're passionate about, to offer a service that helps your community, or to build a product you believe simply must exist. And then the reality sets in: running the business is often the single worst part.
Through my experience building and selling companies, I've become intimately familiar with the tedium and frustration that goes along with business finance, the arcane knowledge you feel embarrassed not to know, and the impatience you feel each month waiting for the books to close.
I felt there had to be a better way.
Today, there finally is! Alongside our incredible team, I'm excited to announce the launch of Digits AI, the world's first private, accurate, and secure finance AI for small businesses. All you have to do is ask…
Finally: AI-Powered Business Finance
In today's fast-paced world, you need to make business decisions in real-time, in the moment. You can't afford to wait days or weeks for financial reports, and you have better things to do than open QuickBooks, export data, and fiddle around in Excel.
With Digits AI, your finances are never a puzzle.
Starting today, instant answers to critical questions are at your fingertips. Just ask:
"What is my burn rate?"
"Who are my top five customers this month?"
"How much did we spend on marketing so far this year?"
While Digits AI might not tell you who will win the 2026 FIFA World Cup, all your finance questions get answered in seconds, with clear explanations and intuitive charts that you can drop into a presentation or investor update.

Trained on over $300 Billion in small-business transaction volume, Digits AI represents a technological breakthrough in the application of state-of-the-art machine learning models to business finance.
You've seen all the hype around ChatGPT. Finally, you can experience the full power of large language models applied privately and securely to your business—saving you hours!
Digits AI is Private. Secure. Accurate. How?
Unlike demos you may have seen that paste financial data into ChatGPT and pray the math adds up, we have pioneered a three-tier architecture to keep your data secured, your privacy protected, and your answers computed correctly.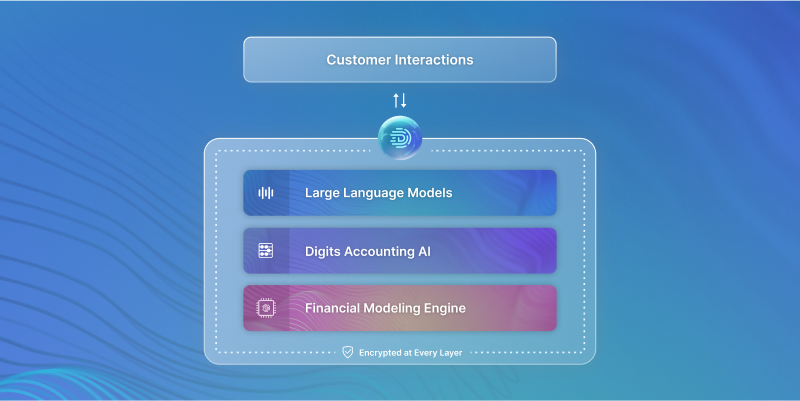 At the base lies our new, proprietary financial modeling engine. Your finance data is encrypted at rest using AES-256, with object encryption keys protected via advanced techniques like per-secret envelope encryption, and your data never leaves the secure confines of our US-based infrastructure.
At the second tier, Digits AI leverages custom-trained, proprietary deep-learning models to understand the unique attributes of small-business finance and double-entry accounting.
At the third tier, Digits AI interacts with public LLM APIs using only anonymized and obfuscated customer identifiers. At no point is raw customer data ever exposed to third-party models or systems.
We use Digits AI ourselves at Digits, and we built it as we would want it to be built—with a comprehensive security architecture to protect your company's most valuable data.
Complete Visibility. No Setup Required.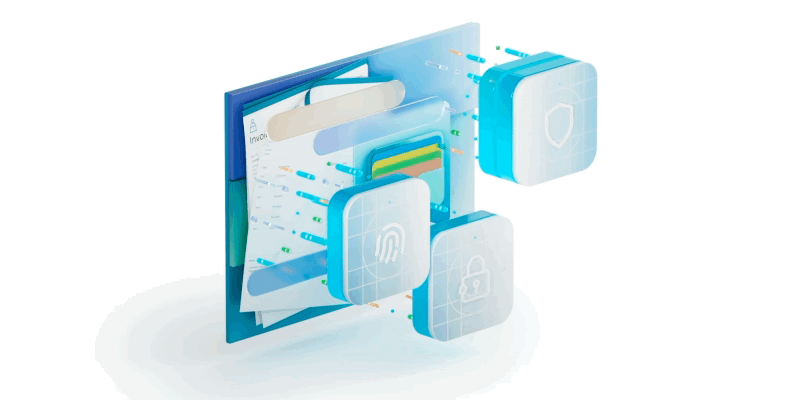 Digits AI connects securely to QuickBooks and over 10,000 financial institutions, giving you instant access to your business's entire financial history and real-time visibility into transactions as they happen.
Spend, revenue, customers, vendors, financial metrics, and more, are endlessly explorable. Just click to dive deeper into detail pages, giving you unprecedented, transaction-level analysis of your business without any additional work.
And unlike other finance tools that take days or weeks to configure, Digits is up and running with just a few clicks. Link your QuickBooks, connect your bank account, and let Digits AI do the work.
Your Company's New Unfair Advantage.
We started Digits with a singular mission: to empower small-business owners with real-time, interactive, intuitive finance. Today, we could not be happier to launch our next major chapter in pursuit of that goal.
And this is just the start. We are already hard at work enhancing Digits AI with deeper reporting capabilities, automated bookkeeping skills, and more to help make running your business a breeze. Let us know what else Digits AI can do for you.
On behalf of our entire team, welcome to the future of business finance.
We can't wait to hear what you think!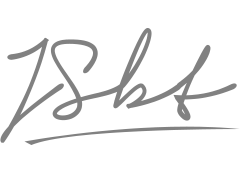 Jeff Seibert
Co-Founder & CEO